What is Photoshop?
To start Photoshop vs Lightroom, we need to have an overview of the features of each of these software's. Photoshop was released in 1990 as a simple photo editing software. But over the years, it has developed a lot and has become one of the most powerful computer software. Photoshop has many capabilities, which is why it can be used by a wide range of businesses, from graphic designers to architects, animators, publishers, photographers or even 3D artists. One of the great things about Photoshop software is that not only do Adobe's official updates and updates add new features, but you can add a wide range of features and capabilities to Photoshop using plugins, filters, and actions developed by software companies. Are prepared by a third party.
Are you planning to combine several photos and create a panoramic photo? Change the color combination of the photo? Retouch your face and remove pimples and blemishes? You may also want to increase your height or make your body fat and thin. All this can be done using Photoshop. Of course, this is not the whole story, because the features of Photoshop are much more diverse. Describing the features and capabilities of Photoshop is useless because we will have a long list of endless. Photoshop has become such an important piece of software today that the term "Photoshoped" has found its place in the slang and everyday vocabulary of all people; We need to know about the power and importance of Photoshop.
What is Lightroom?
Lightroom is another Adobe product. You may be interested to know the full name of this software is "Adobe Photoshop Lightroom". It may seem a bit confusing, ‌ because its name also uses the word Photoshop. But it makes perfect sense, because Lightroom can be considered a subset of Photoshop with special features that are never going to be added to Photoshop. Adobe Lightroom is designed to manage large volumes of images and arrange them in one place. Photoshop is a very sophisticated image editing tool, but it does not provide any special features for managing files and arranging them. Therefore, the issue of file management can become one of the problems of busy designers after a while.
If you are a professional designer or photographer, you will naturally come across many images and photographs. It is not possible to sort and organize these files using Photoshop. In such a case, if after a few months or years you want to find a photo or file, you will have a very tedious task ahead. You need to browse hundreds and maybe thousands of thumbnails and open many files. If you have a large catalog of photos and designs or it is increasing day by day, you will have no choice but to use Lightroom.
Lightroom is a database-based image management software that automatically examines image metadata and records all the information about each image in a new database called a "catalog". These metadata include camera model, date and time the photo was taken, aperture, shutter speed, ISO, white balance, and more. Once images are entered into the Lightroom database, the software allows you to add more information to them. You can tag each image, rate them, or tag selected photos. Using these features allows you to easily identify and select the best options among hundreds and maybe even thousands of photos, edit them individually or in groups, and then save them.
In addition to image sorting and management features, Adobe Lightroom software has several photo editing tools. In a nutshell, Photoshop is an image editing tool, and Lightroom is an image management tool that offers some limited image editing features.
Photoshop vs Lightroom features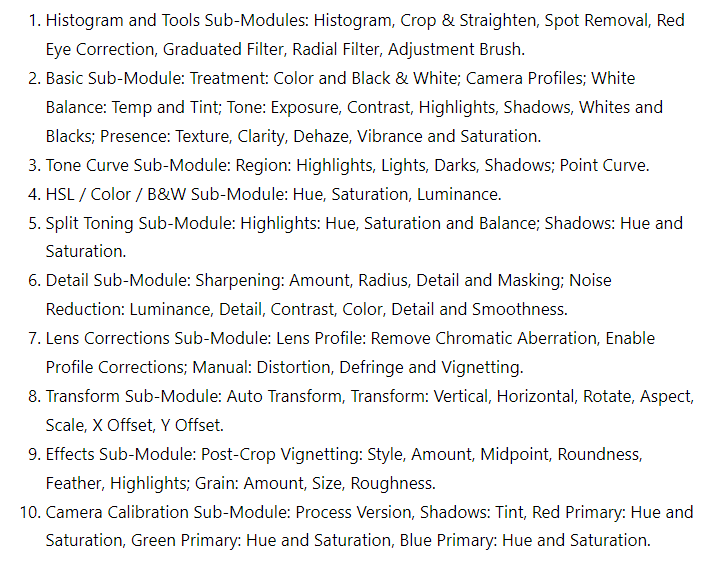 Lightroom has many features and tools for editing photos. In the picture above, you can see the list of Lightroom features and tools. All of these tools and features are also included in Adobe Camera Raw. Adobe Camera Raw is a Photoshop plugin that is displayed when you open a RAW image with Photoshop. Although the user interface and design of this plugin is different from the Lightroom environment, all the features are common. In fact, every time a new feature or tool is added to Lightroom, the exact same feature is added to Adobe Camera Raw in the next Photoshop update. This is true even of the slightest hints and corrections.
In the image below, you can see the similarity between the features and panels of Lightroom and Adobe Camera Raw.
As you can see in the pictures, both software applications are exactly the same.
To summarize the comparison of Lightroom and Photoshop: Photoshop has all the features of Lightroom and many other features that are missing in Lightroom. Some photographers use Adobe Bridge software alongside Photoshop, and consider the combination of the two to be better than Lightroom. Adobe Bridge has some Lightroom file management features, but it does not have a database/catalog system. Adobe Bridge can be thought of as a browser or file management software. Searching for photos requires checking all the folders, and this process can be very time-consuming. But with the Lightroom catalog and database feature, this can be done in just a few seconds, as the Lightroom database is optimized for search. If you use Adobe Bridge to manage your files and images, we recommend that you try Lightroom. You will probably never return to the Bridge!
Beginners to start with Photoshop or Lightroom?
The main question is which software to choose to get started. Lightroom or Photoshop? Wouldn't it make more sense to start with Photoshop if all the features of Lightroom were built into Photoshop? But for some reason, we recommend that you always start with Adobe Lightroom:
10. Learningroom is much easier to learn than Photoshop.
Lightroom has a wide range of image editing tools that are suitable for at least 90% of photographers' editing work.
3- Lightroom helps you to optimize your photography process and be very useful
4- Lightroom can make your work very useful and efficient. Because all work is done in the environment of the same software and there is no need to leave Lightroom and select files from other places.
5. Lightroom gives your files a special order and puts them in specific catalogs. Finding images in this software is really simple.
6. If we look at Lightroom as a file management tool, it allows you to create folders on your hard drive through the software environment, or to rename files in batches with specific patterns.
7- Editing images in Lightroom is not destructive. This means that your original files will never change. Editing images in Photoshop is a combination of malicious and non-malicious methods. If you are not careful, you may mistakenly change the original mother file.
8- It is much easier to access file information (Metadata) in Lightroom. In this software, you can even view the metadata of opened files. But Photoshop does not allow this and you can only see the metadata before opening the file.
There are certainly other benefits to choosing Lightroom to begin learning the photo editing process, but these are some of the most important. However, do not forget that we recommend starting with Lightroom. This means that after a while and mastering this software, you should be ready to migrate to Photoshop. If you want to make major changes and edits, you will have no choice but to use Photoshop. For example, if you want to delete an object from an image, you should use Photoshop, as Lightroom is very limited. In addition, many Photoshop tools are missing in Lightroom and are very numerous. One of the most obvious examples is the inability to create different layers in lightroom. All in all, if you want to make heavy and basic edits, or if you want to make posters and photos yourself, you must use Photoshop.
Is Photoshop more suitable for professional photographers or Lightroom?
This question can not really be answered with certainty. But many professional photographers use both. Newer versions of Photoshop and Lightroom integrate well, and you can take advantage of both.
As a professional photographer, you are likely to encounter large volumes of images and large archives. Lightroom can be a great tool for managing your archive, as well as helping you edit images. But if you want to edit images much more professionally, use Photoshop. For a photographer, Photoshop has a much higher capacity in these areas and will help you more:
Advanced Retouching: If you want to do very professional and detailed retouching, Photoshop also allows you to access the pixel level of the photos. For example, using Photoshop, you can change the shape of the body and make the subject fat or thin.
Composites: Photoshop gives you better options if you want to combine multiple images into one final image.
HDR: Although Lightroom also has the ability to edit HDR, if you are more obsessed with merging images and creating highlights and shadows from different exposures, Photoshop is for you.
Creating Panoramic Images: Using Photoshop, you can paste multiple images together and create a professional panorama. Lightroom has similar features, but the final image will be different.
Advanced Repair Tools: You can also remove pimples, blemishes or moles in your lightroom or whiten your teeth. But these Lightroom features are never as good as Photoshop smart tools.
Conclusion
Using good and powerful editing software is essential for any photographer. At the end of the comparison between Lightroom and Photoshop, we recommend that you start with Lightroom. Once you've mastered the capabilities of this software, get ready to use Photoshop. Choosing Photoshop as a starting point for learning can be a bit tedious. Because the software is so powerful and very comprehensive that it will be very difficult and time-consuming to learn.
Source: Photographylife